Looking for the right product?
Pneumatics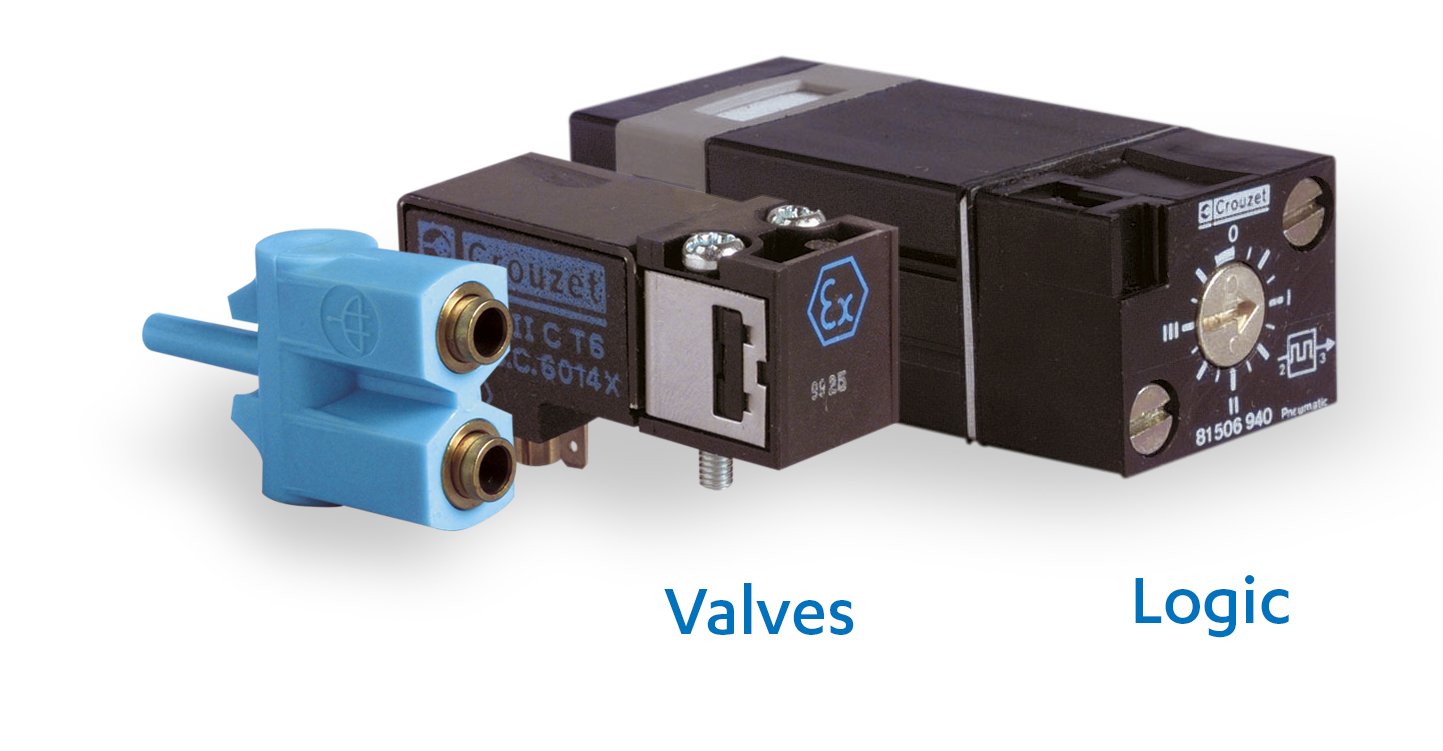 Pneumatic expertise
Crouzet's Pneumatic expertise provides you with an offer to meet all your automation system requirements, including systems for explosive atmospheres.
The quality of the Pneumatic components is based on a rigorous organization which meets all current European and international directives, standards and approvals.
The Pneumatic offer is the result of the implementation of Crouzet applications and expertise:
Listening to and analyzing your requirements
Expertise in the associated applications: mechanical, electronic, sensors, etc.
Prototyping and industrialization
Tests
Standardization and certification (IEC, EN, UL-CSA, ATEX, etc.)
Equipment which is responsive and effective
International logistics and after sales support.
RoHS compliance
All our products are fully compliant with the RoHS directive and embody an eco-design concept.
Industrial range
The standard range of pneumatic components is designed to meet requirements for industrial applications.
The operating characteristics (pressure, flow rate, service life, etc.) have been optimized to best meet these needs.
Range for use in explosive atmospheres
The range for use in explosive atmospheres has been developed specifically for applications requiring compliance with European Directive 94/9/EC.
The user is responsible for ensuring the compliance of his installations. All new installations must be compliant, and replacements in the event of breakdown or maintenance must comply with this directive.
Characteristics of our ATEX components
ATEX products are specifically marked in accordance with the latest versions of harmonized standards
Every product is supplied with a guide specifying the usage restrictions in explosive atmospheres
A copy of the approval certificate can be provided if requested at the time of order
The order entry must state the usage conditions Crouzet states the usage restrictions on acknowledgements of receipt of order, delivery notes and invoices
Some relevant areas
Water treatment, chemical factories, silos, gas storage, ports, refineries, paper industry, paint factories, vehicles (if used in ATEX conditions), etc.