New range: Syr-Line
Publication Date: Dec. 2016
Description: The new specialized range at Crouzet, aimed to satisfy the most unique requirements of your applications by innovating in design, engineering and development.
Control Selection guide
Publication Date: Nov. 2016
Description: A quick overview of our master products.
Control Overview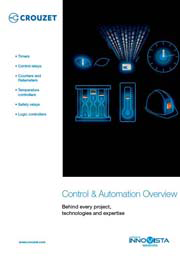 Publication Date: Sep. 2013
Description: In this Panorama, Crouzet presents:
Chronos 2 timers (17.5 mm) with an improved electronic and mechanical design allowing added robustness and reliability.
Timers Selection Guide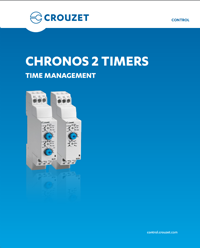 Publication Date: Apr. 2013
Description: These products are particularly suited for use in water treatment, waste processing, renewable energy, HVAC, access control, building equipment, agriculture and industrial automation markets.
Pneumatics / ATEX Catalog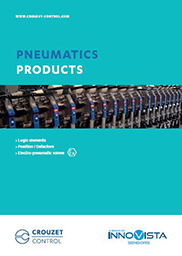 Description: Crouzet's Pneumatic expertise provides you with an offer to meet all your automation system requirements, including systems for explosive atmospheres. The quality of the Pneumatic components is based on a rigorous organisation which meets all current European and international directives, standards and approvals.